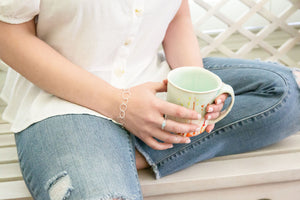 SIMPLE ENOUGH FOR EVERYDAY
★★★★★

My Cameron Kruse earrings are my absolute FAVORITE everyday wear! The quality of the material and earrings are top notch. They are simple and gorgeous. All 5 earrings in my ears right now are Cameron Kruse and I get so many compliments on them. If you want beautiful, quality jewelry then this is where you need to shop!

Caroline
★★★★★

Cameron Kruse's jewelry speaks for her. I wear her timeless stacking rings everyday and they have not broken or tarnished even though I've had them for years. Such beautiful jewelry- I will continue shopping from her for years to come!

Annabelle
★★★★★

I first purchased a pair of earrings 3 years ago as a birthday gift which the recipient loved and still wears to this day. I also wear a pair of Cameron's pearl drop earrings on a regular basis. I'm not a big jewelry person, but I love how her earrings pair with my everyday necklace.

Carolyn
★★★★★

I have a silver pair of earrings on as I write this. I have not taken them off in at least a week. A lot of Cameron's jewelry is versatile and goes with almost any style, casual to more dressy, of clothes. Her jewelry is timeless and well made. I would own every piece if I could.

Marilee
Wear your jewelry on a daily basis with confidence
I only use sterling silver and 14 karat gold-filled metals in all of my jewelry designs because materials matter. Both of these materials are hypoallergenic and perfect to wear on a daily basis. The sterling silver is always nickel free and the 14-karat gold is fused to the underlaying metal so it will never wear off like plating.
Meet Cameron
I have never considered myself an artist in a traditional sense, but rather someone with the innate desire to work with her hands. As a metalsmith artist, I fabricate each piece of my collection from start to finish using traditional metalsmithing techniques I learned while studying at Savannah College of Art and Design. I now work out of my home studio Athens, GA with my two feline assistants, doing what I love every day, creating jewelry others will love to wear on a daily basis.
Become an insider!
Insider's save 10% on their first purchase and are the first to know about sales, new designs, and special events!